About the Temple
The North Carolina Buddhist Temple is located in the heart of Raleigh, North Carolina. It was originally founded by funds donated by Ms. Shanthi Wijay, in memory of her parents Mr. and Mrs. Shelton P. Jayasinghe. The temple belongs to the Theravada Tradition of Buddhism and operates under the patronage and guidance of Ven. Yatiiyana Wajirapala Thero. Since it opened its doors in 2006, with the leadership and guidance of Ven. Wajirapala Thero, the temple community has grown five fold and has become a central part of the Raleigh-Durham Buddhist community.
Resident Monk
Bhante Yatiyana Wajirapala Thero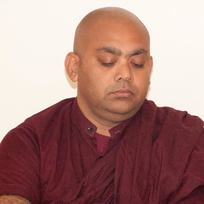 Bhante Yatiyana Wajirapala Thero was born in Yatiyana, a village in the Southern Province of Sri Lanka, situated about 12 kilometers (7.5 miles) from the coastal city of Matara.
He was ordained as a Samanera (a novice monk) in 1980 at the Padhanagara Maha Viharaya in Colombo, Sri Lanka, under the guidance of Late Ven. Dr. Paravahera Pangnanada Nayaka Maha Thero, Late Ven. Wehelle Sri Attadassi Dhammapala Nayaka Maha Thero, and the Late Ven. Matara Sumangala Thero. His higher ordination took place in 1987 at the Malwatu Maha Vihara in Kandy, Sri Lanka. Ven. Wajirapala Thero completed his monastic education at Dharmaduthashrama college and obtained a Bachelor of Arts Degree from the University of Kelaniya.
Ven. Wajirapala Thero has travelled to many countries including Thailand, Malaysia, Singapore, Hong Kong, India, and Nepal. His life in the United States began in California, at the Vietnamese Temple, under the guidance of Master Thich Vien Ly. He resided here for six years and learnt the Vietnamese practice of Buddhism and culture. The Thero moved to North Carolina in 2006 and established the North Carolina Buddhist Temple to teach the dhamma and fulfill the need for a Theravada Buddhist Temple in this area. He has an excellent reputation for preaching the dhamma and conducts meditation and dhamma discussions on a routine basis. In addition, he has a great sense of community and his welcoming nature has attracted a congregation far beyond the Raleigh-Durham area. We are truly blessed and privileged to learn the dhamma and receive guidance from Bhante Wajiralpa!